My name is Dr. Kurt Ebert. I want to welcome you to the Attractor Field Therapy web site. I would like to provide you some context for the content you will find on this site. While this context is not necessary for you to use and benefit from the treatment offered, you may find it interesting.  I encourage you to read the various articles I have provided, especially the article titled "Using the AFT treatments".
Do you know that there are currently 294,000,000 websites on the internet dealing with Grief? Grief is a big problem. The fact that there are so many sites offering help indicates just how common grieving is. Depression is an even bigger problem,  There are currently 589,000,000 websites that deal with depression. Check Google for yourself.
All of these sites provide the same help or ways of helping yourself. They all tell you what you need to change. They all offer you similar methods of achieving change. The problem is that their techniques do not work very well. Few people change. Their methods are ineffective because they try to change your thoughts, not the problem. The problem is how you feel. Your thoughts are probably correct, not helpful, but accurate. They match your feelings. Thoughts follow feelings and amplify them, not the other way around.
No matter how many times you repeat to yourself, "Every day, in every way, I am getting better and better," you won't feel better. You can parrot the things your counselor or therapist says to you, but it will not change your feelings. You can take drugs and numb your Mind, but when the drugs wear off, you still feel the same way. You can meditate or walk in the park, and for a while, feel better, but your feelings will soon return.
What makes Attractor Field Therapy so revolutionary is that it does not tell you how to do it, it helps you do it. Our narrated programs contain tones that, using the electromagnetic energy of loudspeakers, release your stuck feelings. The tones act similarly to Trans Cranial Magnetic Stimulation, but without the need for expensive equipment, or medical supervision. The frequencies work on the energy of the mind and not the brain; they help change and release your feelings, which are the source of your problems.  Each segment in the file is focused on a specific topic and contains different tone sequences. You will not understand how or why, but your feeling will change. You will be free. Watch our testimonials, don't take my word for it.
You listen, remember, and change. Not a bad deal!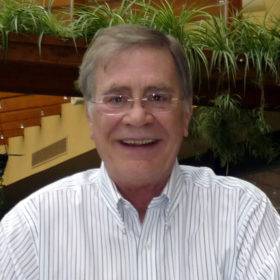 Dr. R. Kurt Ebert
Psychologist and Neuropsychologist, AFT Creator
Dr. R. Kurt Ebert is a licensed Clinical and Neuropsychologist. He maintains a private practice in Bala Cynwyd, PA., USA, where he sees individual clients and conducts telephone consultations. Dr. Ebert may be contacted by telephone at 610-664-8053.
Dr. Ebert is the creator of both Attractor Field Therapy and  Attractor Field Techniques. The latter is a system using sound technology and meridian stimulation to promote the healing of hundreds of physical disorders. He holds AFT training classes in the United States, Canada, and Central Europe.
Visit my other site The Tree Of Life for energetic treatments of physical ailments..
Dr. Ebert was formerly Director of Clinical Neuropsychological Services, Department of Neurology, Temple University Hospital; Director of Research, Division of Family Study, Department of Psychiatry, University of Pennsylvania; and, Associate Clinical Professor of Psychology in Psychiatry and Associate Clinical Professor of Psychology in Neurology, Thomas Jefferson Medical School.